Comprehensive Pest Solutions In Kaneohe, Hawaii
With beautiful beaches along the bay, Kaneohe is a popular tourist destination. The tropical climate is irresistible, not only to us locals but to visitors near and far. Unfortunately, this also includes pests. These intruders find their way onto our properties for sources of food, water, and shelter. Once they find it, it's not easy to make them leave, which is why we're here.
Able Pest Management provides dependable pest control solutions to the people of Honolulu County and the surrounding areas. Since the year 2000, we've been protecting local homes and businesses from the dangers of infestations. Our highly qualified team of pest experts provide reliable coverage from a long list of common Hawaii pests, such as ants, bed bugs, bees, wasps, centipedes, fleas, ticks, mites, millipedes, cockroaches, rodents, silverfish, spiders, and termites.
No matter what your pest control needs may be, we're here to help. We put a high priority on clear communication and building strong customer relationships. We're on your team. Our team will assess your pest situation and then come up with a customized plan of treatment to eradicate the problem once and for all.
Home Pest Control In Kaneohe, HI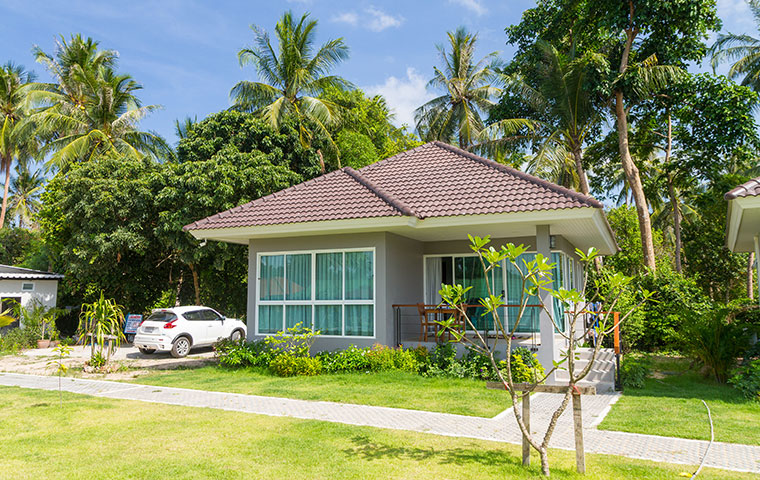 If you're looking to protect your home from the nightmare of a pest infestation, you've come to the right place. Able Pest Management provides residential pest control services to homeowners in Kaneohe and the surrounding areas. In addition to general pest control services, we also offer specialized treatments specifically targeted to tackle your situation.
Some of our treatments include:
Bait systems

Crack and crevice treatment

Dust residuals

Granules

Insect Baits

Liquid residual sprays

Pest extermination

Sentricon® System with Always Active™

Spot foggers

Termidor liquid treatment

Termite pest control services
From our localized treatments to our custom reporting, we're here to help you through it all. Pest infestations can be extremely overwhelming, and you shouldn't have to go it alone. Additionally, our 24-hour termite services give you the peace of mind you need in the event of termite activity. We'll send someone over as quickly as possible.
Commercial Pest Control In Kaneohe, HI
No matter what type of business you own in Kaneohe, you should be mindful of the adverse effects of pest infestations. Able Pest Management offers comprehensive commercial pest control services to a wide array of businesses and commercial facilities, including the following:
Churches

Community and rec centers

Condos and townhouses

Delis and bakeries

Distribution warehouses

Food establishments

Food handling vehicles

Hospitals

Libraries

Military offices and housing

Night clubs

Office buildings

Rental properties

Restaurants

Schools

Shopping malls

Supermarkets

Theaters
Protect your business, protect your employees, protect your customers, and protect your reputation. Professional pest control services can save you a lot of trouble in the future. Our goal is to make your property pest-free and protected from infestations. Call us today.
Tips To Avoid Ticks In Kaneohe, HI
Kaneohe is an ideal place for outdoor activities. The weather is beautiful, the scenery is divine, and the beauty of nature is undeniable – but what about the pests hiding in the tall grass? What about all those ticks waiting to latch onto you and feed on your blood. Unfortunately, ticks are a danger to be aware of when spending time outdoors.
Here are a few ways to avoid ticks:
Check everyone (including pets) for any ticks after being outside.

Shower promptly after spending time outdoors.

Stay out of tall grass, brush, and wooded areas.

Treat your clothing with or buy clothing pre-treated with permethrin.

Tumble dry your clothing on high heat for ten minutes to kill off any ticks.

Use insect repellents before participating in outdoor activities.

Walk in the center of trails when walking, hiking, running, etc.
If you suspect you may have received a tick bite, it's best to be safe and get it checked out by a healthcare professional. In order to eliminate all tick activity, and protect your property in the future, call on the team at Able Pest Management, LLC. We're ready to kick ticks to the curb, once and for all.
Learn How To Identify Bed Bugs In Kaneohe, HI
Nobody wants to discover bed bugs in their Kaneohe home or business. It's a massive headache that costs you a lot of time, money, and patience. In order to detect a bed bug infestation, there are a few indications that you should keep in mind.
In the event of bed bug activity, you will likely find the following signs:
A musty odor emitted from bed bug sweat glands.

Rusty, dark spots of left behind excrement on linens, clothing, walls, etc.

Shed eggshell casings or shed skins in hiding areas.

Sheets and pillowcases with tiny red bloodstains left behind after a bed bug feeds on its host.

Waking up with itchy red bites in a linear formation.
Able Pest Management knows how to detect an infestation, and we're here to take care of it for you. Once our pest experts identify all bed bug activity and hiding spots, we quarantine the infested areas and perform a thorough bed bug treatment to rid the area of an infestation.
Signs Of An Ant Problem In Your Kaneohe Yard
There are many different types of ants that can make themselves at home in your Kaneohe yard, and each has its own signs. For example, if your home has encountered carpenter ants, then you may find holes in your deck and siding. These large black ants burrow inside wood, which can cause it to be frail and unstable. They may also invade tree stumps, so look for holes or any ants that fit the description loitering around these areas.
Another type of ant that primarily lives outdoors is the tropical fire ant. They are typically amber in color and make their nests in bright and open spots. You may also find them in supple soil. These ants do not build mounds like their close relatives, and rather, spread dirt far from the entry point to their nest. For more information on ant control for many species, call Able Pest Management today.
How To Keep Mosquitoes In Kaneohe At Bay
The mosquitoes in Kaneohe are on the search for the human blood that the female needs in order to lay her eggs. This can leave locals with lots of itchy bites that may be potentially dangerous. Mosquitoes are also seasonal pests, so if people try to ignore them, they will only keep coming back. Here are a few tips to keep mosquitoes away:
Address areas of water. Mosquitoes are pests that are lured by warm temperatures, humidity, and any form of water collection. They use these areas as places to lay their eggs, so it's important to turn over water on a regular basis to keep it from getting stale in places like bird baths. Homeowners should also dump out water that collects in wheelbarrows, buckets, and flower pots.
Keep yards clear. If mosquitoes don't have access to standing water, they will use other debris that provides them with damp and dark conditions. Clear away all yard clutter to eliminate these spots.
Make yourself unappealing. These pests are also lured by the promise of human blood, so avoid wearing perfume when spending time outdoors and apply a topical product like lemon eucalyptus oil. It's also important to limit time outside at dusk and dawn.
Work with a pro. While all of these tips may help to reduce mosquito populations, they are not guaranteed nor are they foolproof. By enlisting professional mosquito control in Kaneohe, homeowners can have peace of mind knowing that mosquito populations are being actively targeted.
For more information on mosquito control in Kaneohe, call Able Pest Management today.
How To Identify Termites In Your Kaneohe Home
Termites are attracted to wood and are responsible for bringing five billion dollars in damage to American homes each year. They eat away at homes, but their damage can sometimes take years to be fully realized. That said, here are a few key signs to look for that might help indicate termite activity in your own home:
Subtle scratching sounds from inside your walls
Wood with either a blistered or shredded appearance
Piles of discarded wings
Sawdust scattered around your rooms
Uneven flooring
An increase in allergies, which might be due to termite feces, wood particles, or shed body parts
Bubbling paint or wallpaper
Doors and windows that you can't close
The presence of termite swarmers, which get pushed out of colonies and start their own
If you notice any of these signs, the best thing to do is call the pros at Able Pest Management for termite control in Kaneohe. Our QualityPro-certified company has been proudly serving our community for over 20 years. We have an unwavering commitment to excellence and will always put your needs first. Our team of qualified technicians upholds the most rigorous safety standards so that we can make your home safer. Our termite services utilize thorough inspections and either the Termidor liquid treatments, the Sentricon® System with Always Active™ baiting system, or heat treatments. For more information on warrantied termite control in Kaneohe for your home, call us today.
The Dangers Wasps Bring To Yards In Kaneohe
When you live in Kaneohe, you ought to be aware of wasps and the potential risks that they can bring to your home. While most wasps are docile, they are also territorial. If they feel that you have provoked or threatened them, then they are likely to sting you. Wasp stings usually result in allergic reactions like facial swelling and hives. Some people suffer from even more severe responses, like difficulty breathing. Wasps are also dangerous because some will build their nests in the ground, which can make them even more unassuming to members of your household.
At Able Pest Management, we provide wasp control in Kaneohe that protects you from the reality that these pests pose. Our team will custom-tailor a plan that suits your needs and is structured around the specific nature of your yard. For more information on our wasp control services, please call us today.
Schedule Your Inspection Today!
Complete the form below to schedule your no-obligation inspection.