Ants in Honolulu are common nuisances around homes, entering houses through cracks or holes for food and water. Most ants don't spread illnesses to people but can contaminate food. Even if they're not dangerous, you'll want to keep these pests out of your house.
There are ways to limit the number of ants in your home, but Honolulu pest control professionals have the knowledge and tools to control these insects. Keep reading to learn how to keep ants from invading your Honolulu house.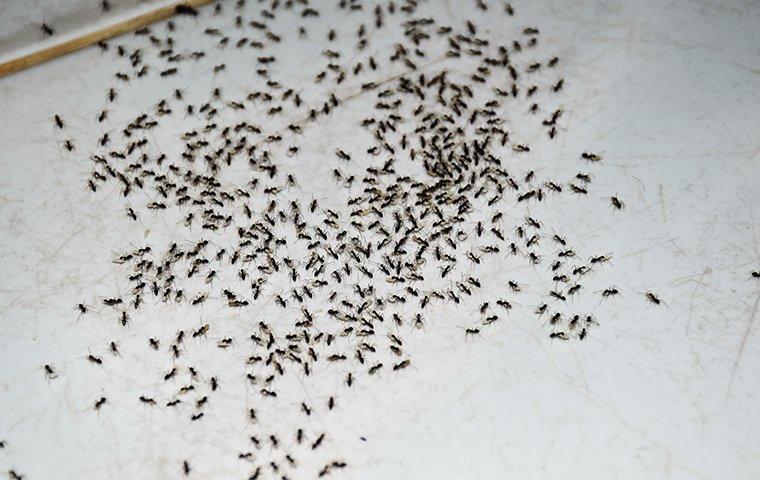 Ant Communication: How Infestations Develop And Spread
Various types of ants live in pavement cracks or yards around Honolulu residences and invade buildings for food and water to provide for their colony. Ants are social insects, living and traveling in groups of thousands, and their sizes allow them to enter buildings through tiny entry points. When the initial ants enter, they'll leave a chemical trail for others in their colony to follow.
Infestations can be difficult to eliminate because these pests communicate using pheromones. They use these chemicals to direct others toward food or alert them of danger. The ants you remove will tell the others to hide elsewhere, causing the infestation to spread around your property.
Ants and Food Safety: Protecting Your Home and Family
The scent of sugary foods attracts ants to the various rooms of your house as they look to feed their colony. For this reason, these pests are commonly found in kitchens, though they'll spread anywhere where food sources are available.
Most ants are relatively harmless, but some can spread illnesses if they contaminate food. When you see these pests in your kitchen, there are some steps you can take to disrupt their trail.
Some of the ways to prevent ants from your kitchen include:
Identify the entry point
Remove the food source
Spray vinegar and water to disrupt their trail
While these tips can briefly get ants out of your kitchen, they'll likely return if the nest and entry points remain. The only way to eliminate ant infestations is to call ant control professionals.
Professional Ant Control: Eliminate The Infestation
You can find several over-the-counter products that claim to provide ant control for homeowners. They might provide some relief, but these pests will continue to invade your home if food and entry points are available. The only effective way to eliminate ants on your property is to call the professionals for help.
When you call Able Pest Management to get rid of ants in your Honolulu house, we'll go further than remove the intruders. Our pest manager professionals will provide them with products to take their colony, eliminating the ants at the source. Call us to learn more about how we can eliminate ants in your Honolulu home.
Ant Prevention Tips: Keep Your Home Ant-Free
Ants are nuisances when they invade your home, even if they don't cause damage or spread illnesses. They'll contaminate your food and can be difficult to remove. The best ant control technique for homeowners is to prevent them from entering your house in the first place.
Identifying and removing attractants causes ants to look elsewhere for necessities.
Some ant prevention tips to avoid infestations include:
Solve moisture issues
Close cracks or gaps in your home
Pick up crumbs and clean spills on surfaces
Store food in airtight containers
Cover trash cans and garbage bins
These tips can help to keep ants from invading your home, but you'll need help from a dependable pest control company when they get into your house. At Able Pest Management, we'll send the ants back to their colony with products that eliminate those in the nest, avoiding future problems. Contact us to get help with ants and to learn more about our residential and commercial pest control services in Honolulu.